Last year I did a field trip report on
JerseyFest 2013
. I enjoyed it so much last year I made sure to attend again.
I was only able to attend on Saturday. So let's run through this year's experience using the same format as last year.
WARNING, photo intensive!
Logistics
This year saw a change of venue. The show moved from the Crowne Plaza Hotel in Fairfield, NJ to the Marriott in Hanover, NJ (about 12 miles further west). In addition to the physical move, the show itself was over a month earlier than last year.
I was able to quickly find the show popping through a convenient side door, so I can't report on the lobby signage. Admission was unchanged from last year, still $15 for the day. The admission ticket was still a wrist band.
Once again the show provided a single page show guide covering where everything was and when, this included non-show items such as restaurant hours, shuttles, ATMs, bathrooms, and the hotel wifi access code. As the Marriott is larger and more spread out, I would have appreciated a map on the one-pager. There was a map posted on an easel right next to admission, but as far as I could tell that was the only one. Otherwise the guide was fantastic.
The Marriott staff kept things clean. Hotel staff was very much in evidence, checking in that AV equipment was working properly, making announcements due to a false tripping of an alarm. They came across as very professional.
All the events were on the same floor, but as it was a bigger venue it took me longer to get oriented.
Model Contest
It may have been an optical illusion, but the contest room did not seem as big as last year's. The ceiling was higher which may have caused the illusion, and the room was wider and easier to walk around.
There also didn't seem to be as many entries as last year. Last year the tables were
packed
! This may be due to the contest extending into Sunday (I believe that was new for this year). You could pick up your entry on Saturday at 5pm and receive any bronze through gold medal you may have won, but you would not be elidgable for any special awards. Folks could enter on Sunday and/or have left their pieces over night for the 3pm awards ceremony to be elidgable for special awards. While I didn't enter, I am not too fond of this new format. It seems a ploy to have folks stay longer into Sunday to make it worth while for vendors to stay. Many folks have a multi-hour journey to these shows, they'd probably like to be on the road early. All IMHO!
Setting this aside,
on to the eye candy
, of which there was still plenty! If you click on any of the pictures below it should take you to a larger version.
There were some truely wonderful figures painted with incredible skill. Let's start with the busts...
Wow! Just... just .. WOW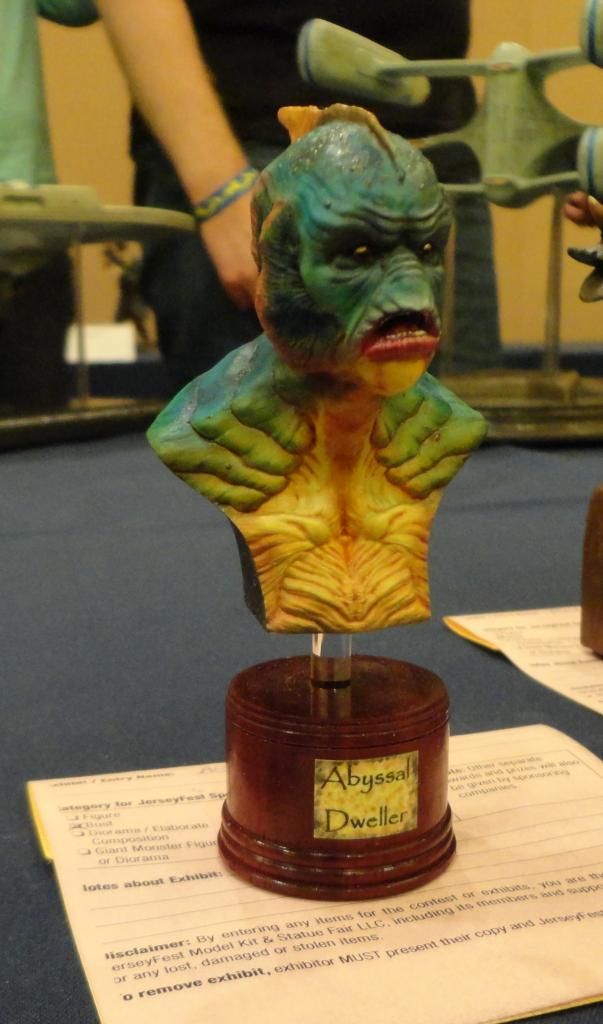 I liked this figure so well I bought one in the vendor hall
Anyone know if this is an original or a kit?
I'd love to get one.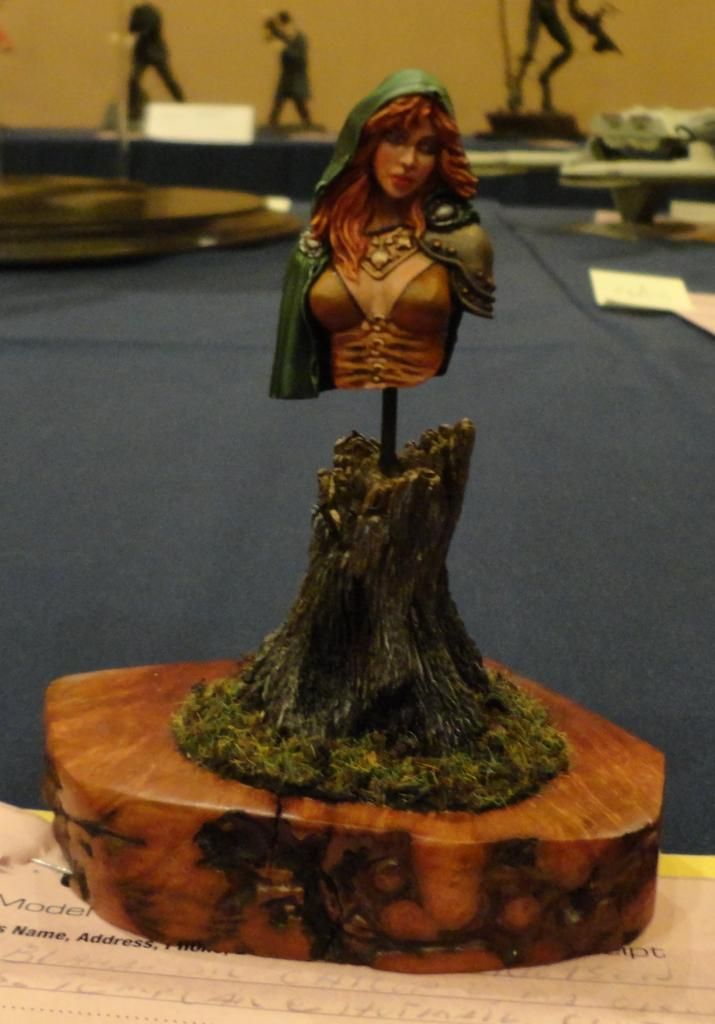 Very well done and I love the base.
Industria Mechanika... drool, drool. Love their stuff and
the light work is great...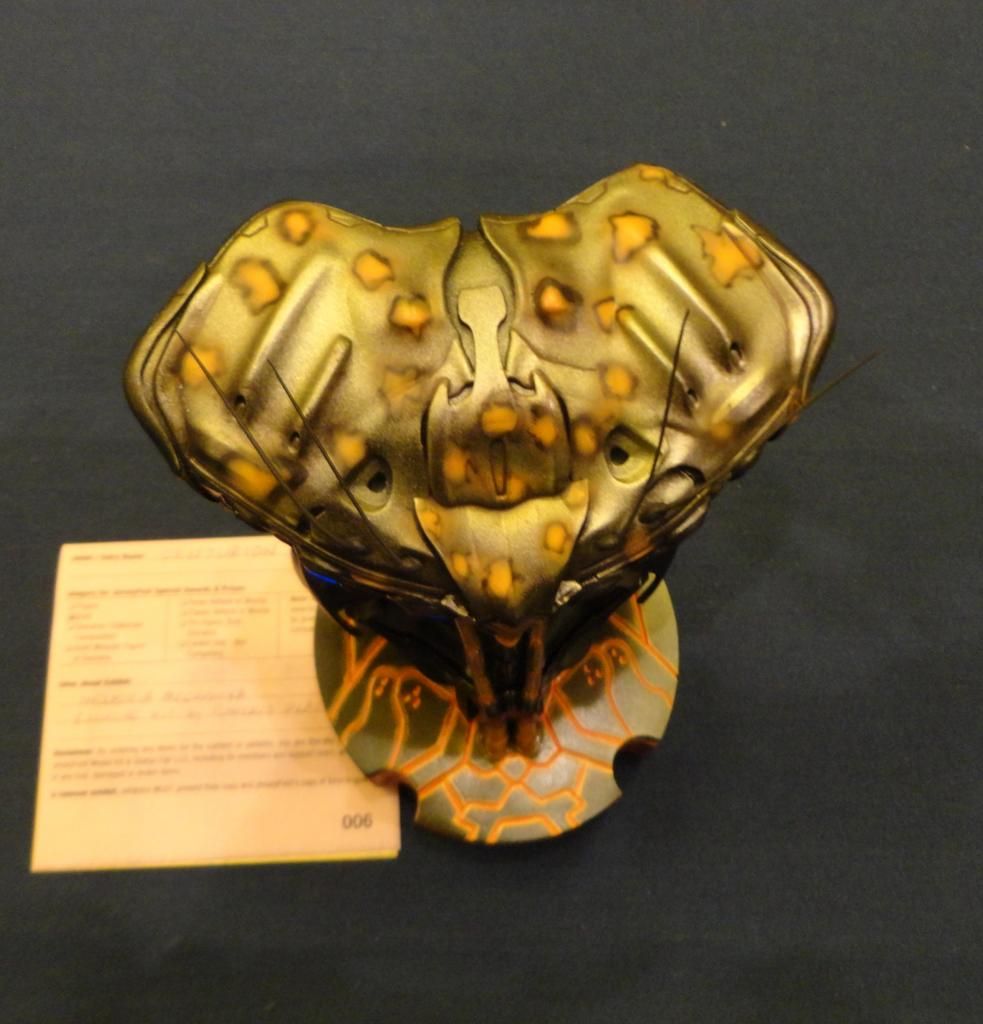 As well as the airbrushed pattern. This deserved two photos!
More Industria Mechanika!
I this a real kaiju or a new creation?
What's the film?
Maybe not the hugest kaiju there, but I love the story telling.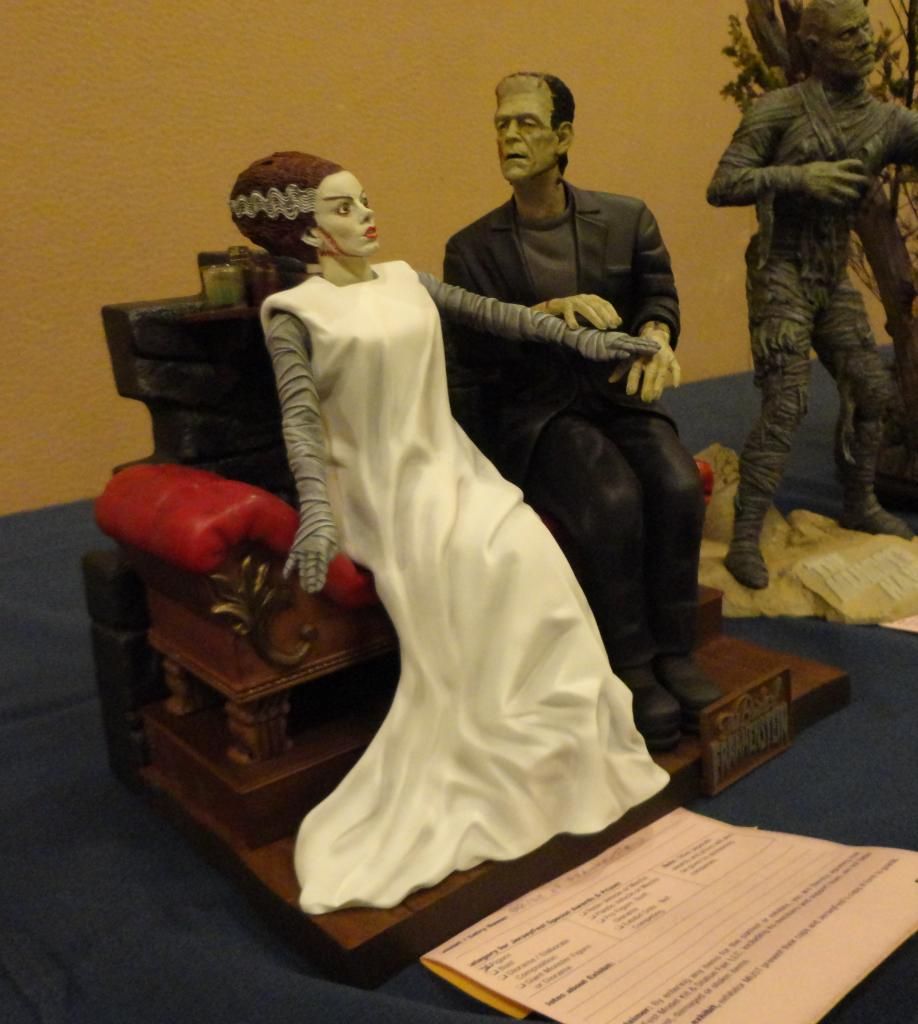 I can't get over this is an injection molded kit! Killer job!
Hail Yog-Sothoth! All praises to you, whose form is of Globes and whose face is the Void Itself.
Lot's of game figures there to represent! Warmachine seemed especially popular...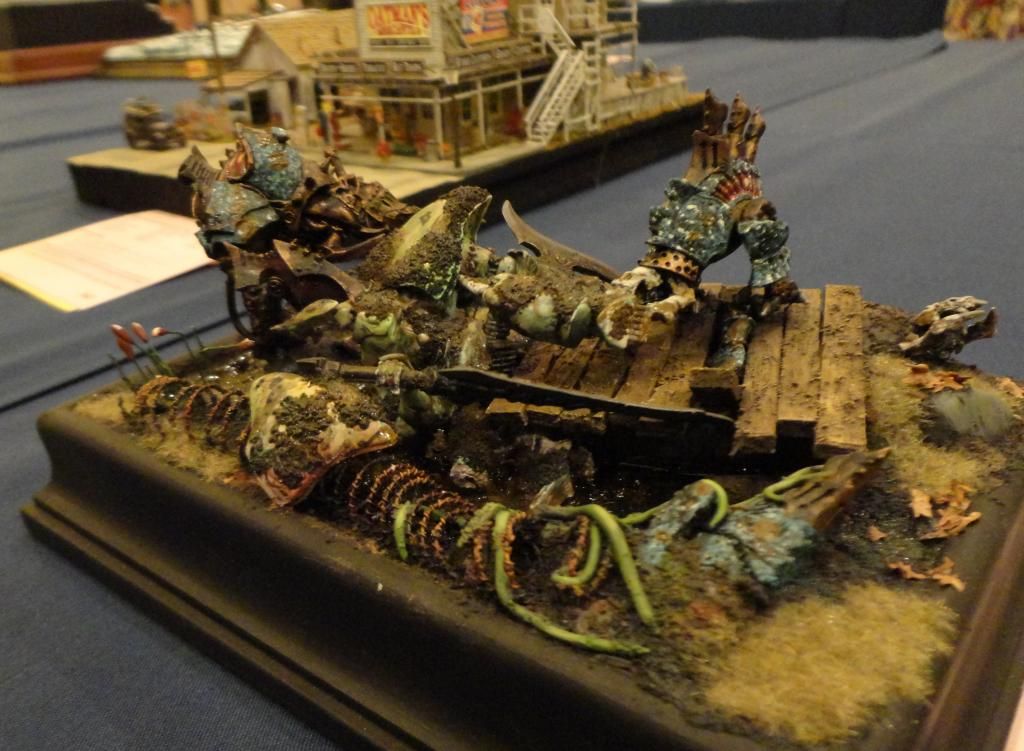 Beautiful base work!
Reaper Bones?
Definitely Reaper Bones
The starship crowd was there as well...
There was a table dedicated to lit ships.
My favorite ship of the TOS era, possibly all of Trek.
There were a number of Trek conversion that were very clever
This is from the Perry Rhodan saucer kit.
And this is converted from an anime kit
And this the AMTRONIC car kit. I saw this idea on Starship Modeler.
Not sure if this is the original or inspired by it. Great execution either way!
Best Narcissus I have ever seen. Often the kit comes across as bland.
This one kicks A**!
Enemy fighter from Buck Rogers.
And a Thunder Fighter. Another talented build that turn
the kit into a fantastic replica.
and others hard to classify...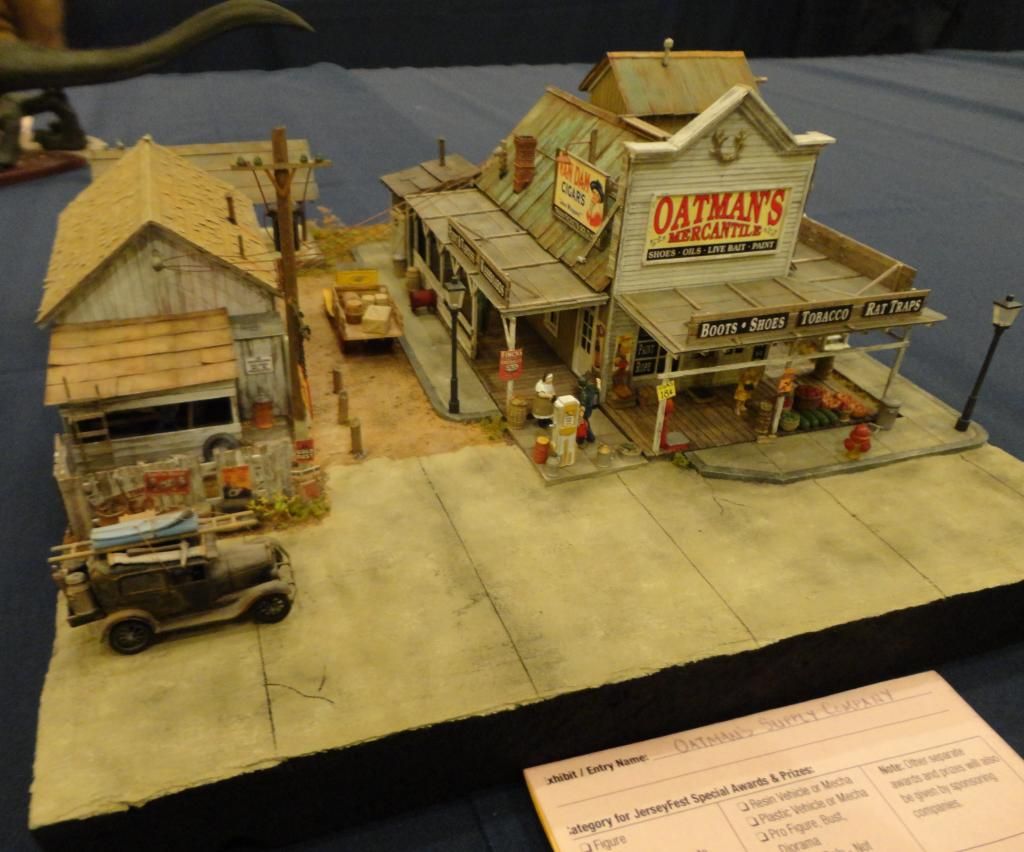 An HO neighborhood. I kept looking for the vampire or grey alien
to tie it more to the contest. Nope! Straight ahead build wonderfully done.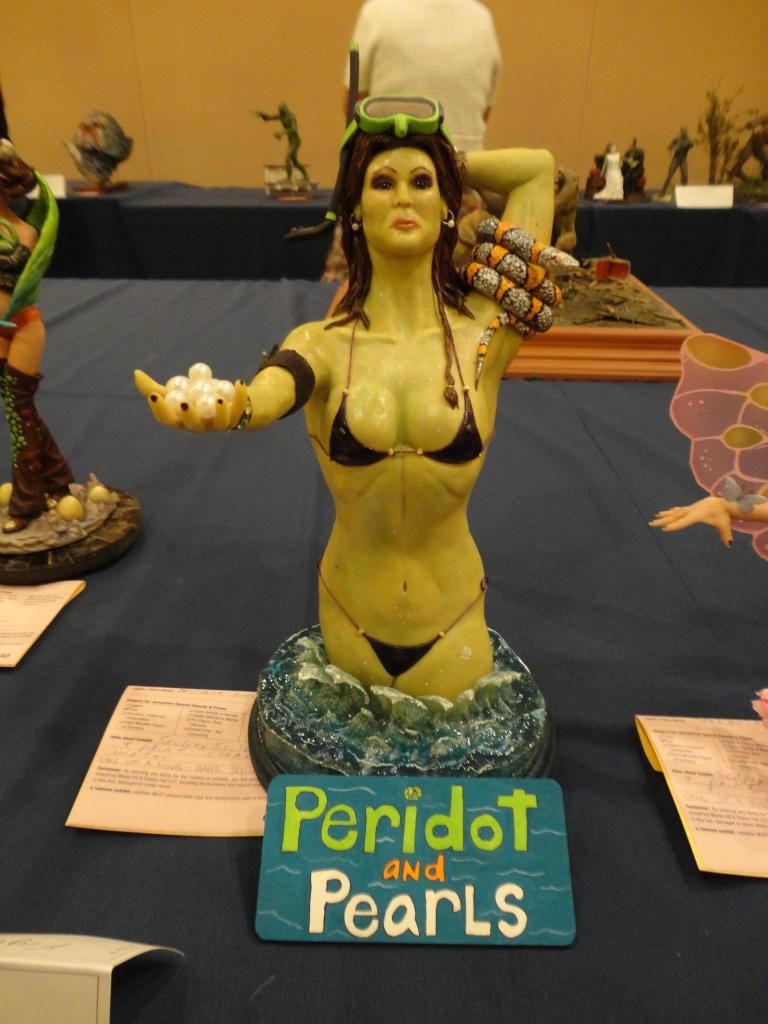 Custom sculpt
Another custom sculpt. Really well done! Heck, I'd buy the kit!
This BatBoat was flawlessly built and the water is made with PAPER MACHE!
So good it deserved two photos!
And the best for last - 1/6th scale scratch built Dalek!
Wow! Somebody's got some monster talent!
Vendor Area
The vendors where housed in one large ballroom at the Marriott, unlike last year were it was in two smaller rooms. I seem to have forgotten to take pictures there...
A number of great vendors with kits, airbrushes, and electronics. Also a number of private citizens were thinning their collection (estimate 1/4 to 1/3 fit this description). This seemed up from last year.
I was looking forward to seeing the
Industria Mechanika
booth, but they did not show. I saw on his blog, after the show, that Wonderfest had so depleted his stock of kits that he decided not to go to JerseyFest and dissappoint folks with few wares to sell. Understandable, but dissappointing non-the-less.
Overall there seemed to be less variety in vendors than last year. Absent were the guy with tools, the guy selling Lightening CA, and the book/video vendors. Hopefully I am not remembering Resintopia and getting the two shows confused.
Here is my booty, slim though it may be.
Above unnamed bust by
Jake Corrick/Misfit Monsters
. It's about 6" high.
And another bust, this is the one I saw in the Model Contest:
This bust is about 3" tall and by
Collapse Industries
and is called "The Abyssal Dweller". Collapse had 3" and 10" versions. I spoke to the owner and he said the 3" was not selling well. I think it is really a shame that the garage kit crowd seems to ignore the smaller pieces. To my mind the smaller pieces offer: greater variety in a smaller space, closer size to the 1/8th Aurora kits that inspired the entire industry, and more modest investment. I just don't have the space tons of 1/4th scale kits!
Anyway, this piece is a wonderful job of casting. I expected the head fin to be a separate piece - nope, all one!
And finally the 1/32nd Cylon Raider kit by Mobius. Excellent deal - $20!
So all told, $62 in damages.
Seminars
I found the seminars the most compelling reason to return to JerseyFest.
I was able to attend two and a half seminars this time.
First up was Painting Comic Book Characters with John Ficchi.
As with last year, they had the up close work on a widescreen TV. Making everything very visable even in the larger rooms at the Marriott.
John has a channel on
YouTube
and he does a lot of work with repainting and reposing super hero statues and also commision kit building.
I learned that he uses a "thick" airbrush (I think that means .4 needle) to shoot Tamiya paints without thinning, He had a great recipe to simulate vinyl clothing (see Supergirl's skirt in the picture above) which I may use on SF gaming vehicles. There were a couple of other great tips. If you get a chance to see him, do so! Really a very informative seminar.
Second was Painting Techniques for Scales & Skin on Creatures by Rick Cantu.
I only got to see half of Rick's seminar as I left early to see the third seminar. I'd heard about using transparent paints before, but this is the first time I was able to witness them being applied. AMAZING! This is what is great about the seminars at JerseyFest: there is no substitute for seeing someone executing these techniques on the fly. No magazine article or blog post can make things so clear. Wish I could have stayed for the entire seminar.
And the last seminar I took in was Painting Sc-Fi Vehicle Models with Boyd Crompton.
Boyd Crompton is on the
TrekWorks
channel on YouTube. He is an extremely talented guy and I have learned a lot from his videos. I was a little disappointed that his presentation was a slide show, but still picked up a few tips that will help me.
There were six seminars on Saturday and the show guide said four seminars on Sunday.
The other Saturday seminars were:
Implementing Lighting in your Hardware Models by Ralph Tenaglie of TenaControls
Painting Monsters by Jordu Schell special effect guest
Phil Tippet - visual effects guest (Jurrasic Par, Star Wars, RoboCop, etc)
Sunday had:
Overall
So overall the show was, for me, slightly down from last year. I didn't feel the variety in vendors was as good, I miss the intimacy of the smaller seminar rooms at the Crowne, and the lower turn out for the contest left me wanting more. It was still an excellent show, but more of an B+/A- after last years A+++.
My view is probably somewhat colored by Industria Mechanica not making it. I was SO looking forward to seeing their kits in the flesh.
I will still do my best to be there again next year.
If I could magically tailor the show more for me, I would request the following "improvements" (your mileage may vary):
Floorplan/map on the one page guide
More seminars, especially more direct demonstration seminars.
If you want to entice me to attend Sunday, more seminars (sensing a pattern?)
Try and get a greater variety of vendors.
I also note that
Resintopia
, the other Jersey resin show (my Field Trip report
here
), has moved from the spring in 2013 to September in 2014. Two shows covering similar areas a month and a half apart can't be a good thing. It will probably be hard for me to make that one.
For further about the show, JerseyFest has a photo gallery
here
, and there is a two part video on YouTube (
part1
and
part2
). One of the videos is of the vendor hall, which will make up for my not taking any pictures there.
Latah!