More catch up! This is making up for the Sprint I should have published on June 29th.
Here are the finished Sybots by
Astro Miniatures
. The only thing added since
Paint Table Saturday 36
is the addition of some Silfor Buffalo Tufts and a coat of clear.
Front of the first five.
Backs of the first five.
These photos are also the premier of the "set" I made to fit inside my photo tent. I'll do a post on that soon. (Done! Post is
here
.) In my eagerness to get his post up, I didn't have the patience to put up the tent, which it why they are a little dark and the red "eye" can't be seen.
Front view of second five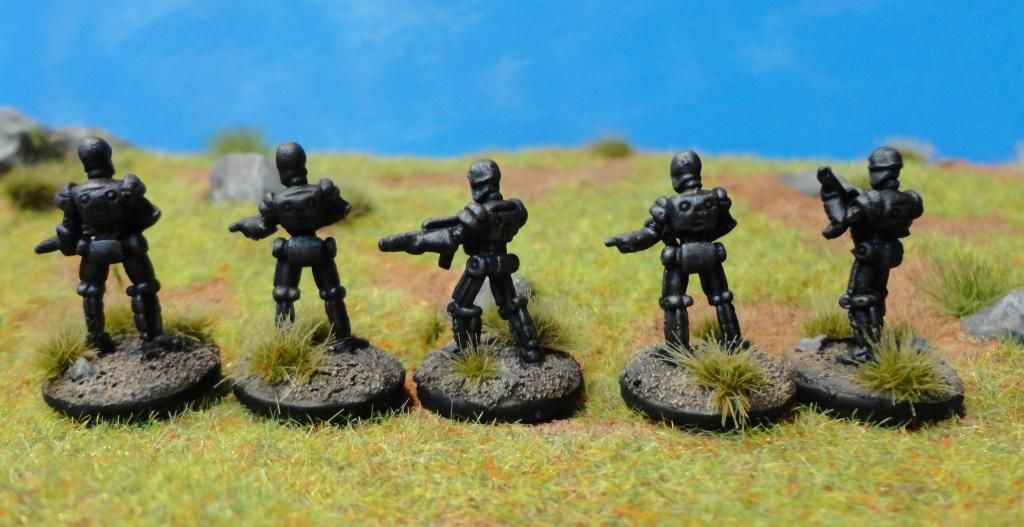 Backs of second five.
These 'bots are rather tall for 15mm: With the washer I mount them on their about 25mm tall, and I estimate about 20mm from the bottom of the feet to the top of the head. Then again, I recall a certain old TV show where the robots that were taller than humans.
As always, clicking on the picture will bring you to my Photobucket where you can see larger versions of the pictures
These 10 bring my total to 83 since February!
Latah!