Hi All!
Another odd two weeks - mostly plagued by allergies. Sooo groggy it was hard to paint. I did manage to finish the five Evil Hooded Minions by
Pulp Figures
I was working on last Sprint.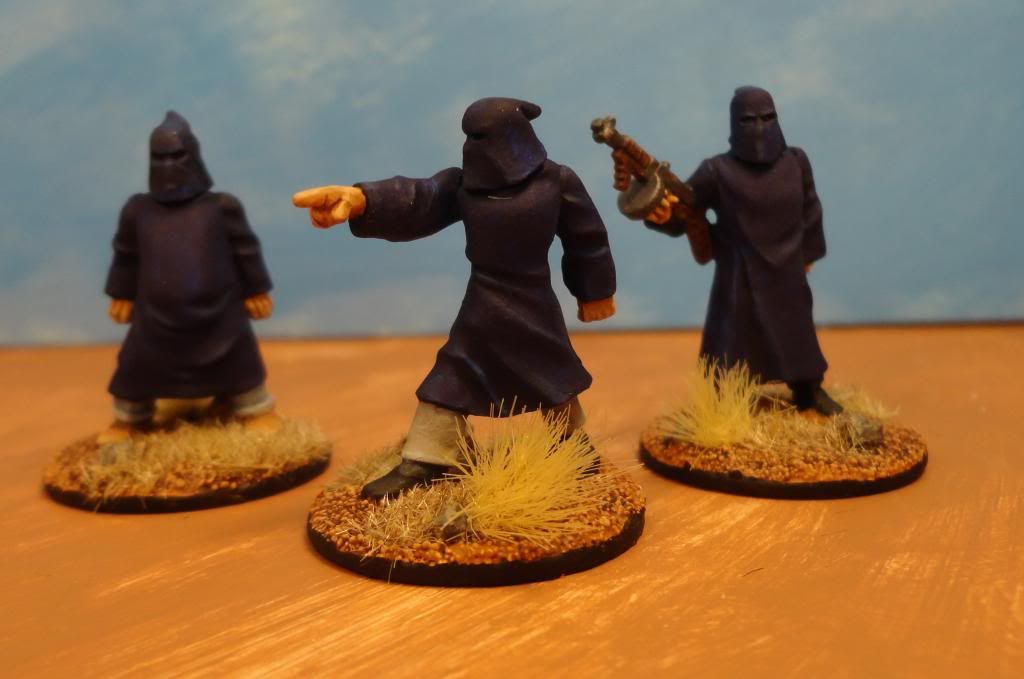 3 of 5
Very odd to be working on 28mm figures after such a long absence.
I was very pleased how the dark blue cloaks came out. Based mostly on Reaper Master Series Ultramarine Shadow as the base.
I tried to mix up the types of shoes and pants. For "Chubby" on the left, I tried to simulate blue jeans with a rolled up cuff and work boots. I was also pleased with how these items came out.
Remaining 2 of 5
These were very quick to paint and a lot of fun. Now I have to sort out the remaining 5. They are multi-piece figures which I deferred doing until I get my "sea legs" back with 28mm.
So the 5 figures shown here are a combination of two blisters: PWM04 Evil Hooded Minions 1 and PWM05 Evil Hooded Minions 2.
Also want to note the "in progress" back drop I am working on for photos. Eventually this will be a textured and flocked ground pieces with a sky back drop. I thought the monochrome nature of the backdrops provided with the photo tent were just too intense.
An interesting bit I noticed as I finished photographing was the result of a flocking error. I built a static flocker based on a battery powered fly swatter. I'm still building up experience with the gizmo and while flocking it shorted to the figure. It wasn't until later I noted it had damaged the figure -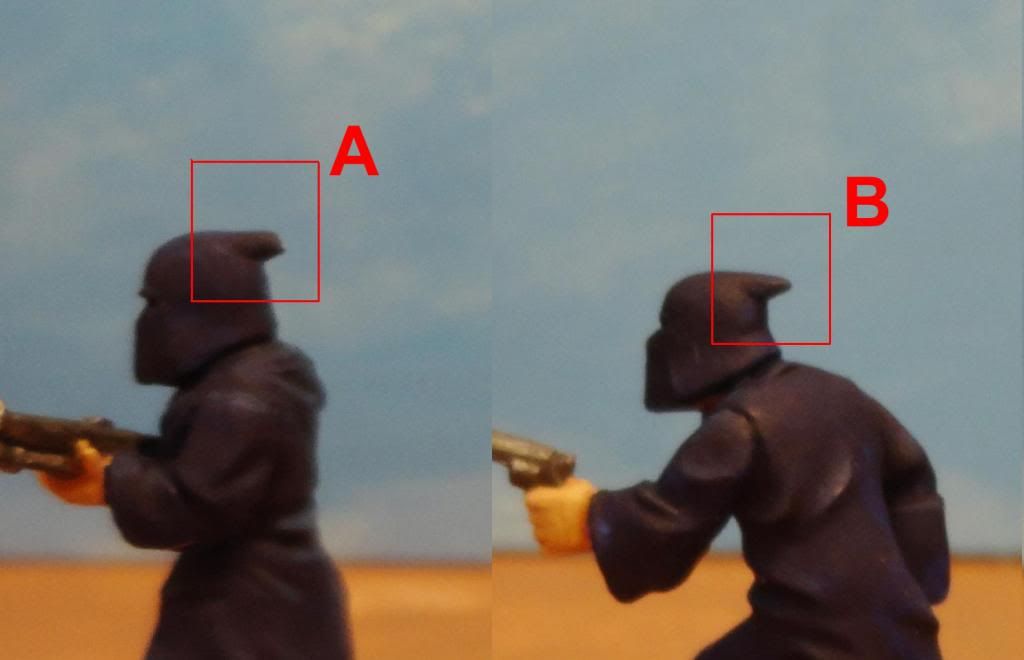 In the picture above, note how the tip of hood "A" is chopped off while the tip of hood "B" is nice and pointy. Below is a picture of hood "A" head on. Apparently the spark atomized the hood tip. I guess one needs to be cautious with high voltage!
I'll have to break out the epoxy putty and restore the hood.
This brings my total to 47 figures done since the end of February. I did break down and purchased two sets of
Dark Star
's new 15mm civilian SF vehicles. My year to date purchase total is now 10. I am very happy that my painted is still greater than my purchased. Have to keep painting if I want to stay in the black though! krimso will drop that order to Pulp Figures any day, which will be an additional 30 figures!
On the painting table I currently have:
Blue Moon 18mm Pirates
Rebel 15mm Mummies
Two Black Hat 18mm Hover Steam Tanks
That's all for now!
Latah!